Harrod Blank Biography
When Harrod Blank first realized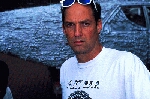 that his '65 VW Beetle could be treated as a canvas, the result was "Oh My God!". Painted like a beach ball with a bumper of plastic fruit & rubber chickens, a chalkboard on back and a TV on the roof, the car was the catalyst for his remarkable career.

Initially, Blank thought he was the only one in the world with an Art Car, and at times felt quite alienated. This would change, as he gradually learned from supporters that there were other such cars, spread out across the country. Drawing from what he had learned from his father, filmmaker Les Blank, and the BA in Theater Arts/Film he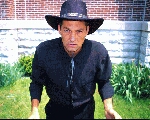 earned at UC Santa Cruz in 1986, Blank began photographing other Art Cars. Subsequently, he raised money through private investors and took out loans as needed to finance the 64-minute documentary he dreamed of making: Wild Wheels.

To his credit, over 55 million people worldwide have now seen the film. Blank initially distributed Wild Wheels, featuring 46 Art Cars and their respective artists, by drivin "Oh My God!" with the film to 50 cities across the country. Publicity from the tour gained the interest of PBS, which broadcast the film repeatedly as a National Special in 1993. The following year, Blank's photography was featured in a companion book, Wild Wheels (Pomegranate, 1994; Blank Books, 2001), which was named "Best Book for Young Adults" by the American Library Association.

Blending his passion for Art Cars and his love of photography, Blank was inspired by a dream to attach 1,705 cameras to a 1972 Dodge van. Cleverly hiding ten working cameras among the rest,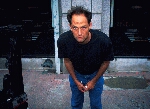 Blank had finally found a way to capture on film the public's candid expressions of awe and delight. In 1995, Blank drove the "Camera Van" to New York City for its official "debut" and shot over 5,000 photographs for a photography exhibit, "I've Got A Vision."

In 1995, still enthusiastic about the beauty and power of Art Cars, Blank began production of a feature-length sequel to Wild Wheels. A short version of the film (Driving the Dream, 29 mins.) was broadcast on TBS's National Geographic Explorer in October 1997 to help raise money for the epic film Automorphosis, which was completed in fall of 2008 and had its world premiere Jan 23, 2009 in Santa Barbara Film Festival.

Blank made his third Art Car in 1998, an interactive mariachi-themed music mobile called "Pico De Gallo" later unveiled in his new book, Art Cars: the Cars, the Artists, the Obsession, the Craft (Lark Books 2002, Blank Books 2007). Gene Shalet heralded the book on the Today Show as his favorite holiday gift suggestion. The Petersen Automotive Museum hosted a major exhibition of Art Cars in Spring 2003, of which Harrod Blank was Guest Curator.

Currently Blank is touring for "Automorphosis" with the Camera Van and 5 other art cars in an effort to get distribution. In addition he is in production on "Burning Man: The Movie," 15 years in the making.

Blank's mother Gail Perrin Blank, an erotic ceramist, died in February 2005, which prompted a major career change. In August of 2005, Blank embarked upon the making of a visionary center for the arts in Douglas Arizona on the border of Mexico called Rancho Del Arte.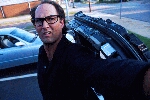 This bilingual center will feature arts above ground and below and will include ArtCarWorld, a museum dedicated to Art Cars, the Ceramic Cafe integrated with ceramic arts and mosaics, Highway Cinema, an outdoor theater specializing in independent Mexican and American films, and an underground system of caves featuring shrines to the dead. In addition, there will be 5 artist residencies on the 2nd floor, 2 film editing/production suites in the outbuilding, El Gallero tiki bar in the center of the courtyard, and a gallery/museum gift shop on the street level.
Not only will the center be a place for art to be created and veiwed, but it will be a work of art in itself. The gallery space will be opening in theSpring, 2011, the residencies in the Spring of 2013 and the other elements by the end of 2015.
For more information on Harrod Blank, go to: www.harrodblank.com
Excentrix@aol.com
450 E. 8th St. Douglas AZ 85607
Phone/Fax: 520-805-1850
| | |
| --- | --- |
| | Get on Camera Van's Mailing list |